Study in Canadian Universities Without IELTS as an international student. It is possible to apply for admission to Universities in Canada Without IELTS. Canada has relaxed the admission process and study visa process. Canadian Universities use different factors to assess students' English language skills. They don't only focus on IELTS tests. If you do not have an IELTS then do not worry still you can apply for Canadian Scholarships.
Also read How Much is 1 Bitcoin Worth Today?
List of Universities to Study in Canadian Universities Without IELTS
Here is a list of Canadian Universities where you can apply without IELTS:
The University of Alberta (Faculty wise vary)
Memorial University of Newfoundland and Labrador
The University of Saskatchewan (Faculty wise vary)
Brock of University
Queens University, Canada
Cambrian University
University of Regina
Memorial University of Newfoundland
Concordia University
Algoma University
University of Winnipeg
Brandon University
Carleton University
University of Guelph (Faculty wise vary)
Also read What is the Easy Way to Get a UK Passport?
1# Process of (How to Study in Canada Without IELTS)
The first and very basic process that how you can study in Canadian Universities without IELTS is that there are many alternatives to IELTS available.
Also read What is the best engineering university in Canada?
First: You can get English Language Proficiency poof from your previous University and you can show that as an IELTS alternative. It will state that candidate has completed their previous degree from an English Medium Institute.
Also read Top 10 Videotape Editing Apps for Android in 2023
Second: If you are from an English Speaking country such as the UK, Australia, USA, New Zealand, Canada, and many other officially Recognised English-speaking countries then you do not need to give any IELTS or any other Alternative. 
2# Second Process on How to Study in Canada Without IELTS (WHED Portal)
Many Universities in Canada allow English Test exemption if your previous University/Institute's name falls in the WHED Portal.
Many Canadian Universities are available on WHED Portal so you can apply for them without IELTS. Such as:
Also read cryptocurrency bitcoin price today
Concordia University
Cambrian University
Algoma University
Brandon University
The University of Guelph (Faculty wise vary)
University of Calgary
University of Regina
Waterloo University
Usask
You can Visit the WHED Portal website: https://www.whed.net/home.php
In the above Canadian Universities, you are allowed to study without IELTS. Recently Alberta University has waived off IELTS Test. Now you can apply for the UAlberta Scholarships 2023-24 in Canada without IELTS.
How to Find Your University in WHED Portal
Go to: https://www.whed.net/home.php
Then you will see on the right side a search bar
Choose a country and/or enter a keyword
For example, You select your country "Pakistan"
Then you select your University: For example LUMS
It will list out LUMS. Open it. If the 𝒍𝒂𝒏𝒈𝒖𝒂𝒈𝒆 𝒐𝒇 𝒊𝒏𝒔𝒕𝒓𝒖𝒄𝒕𝒊𝒐𝒏 is listed only as "𝐄𝐧𝐠𝐥𝐢𝐬𝐡" then it's your Lucky Day. It means students from LUMS University can apply to Canadian Universities without IELTS.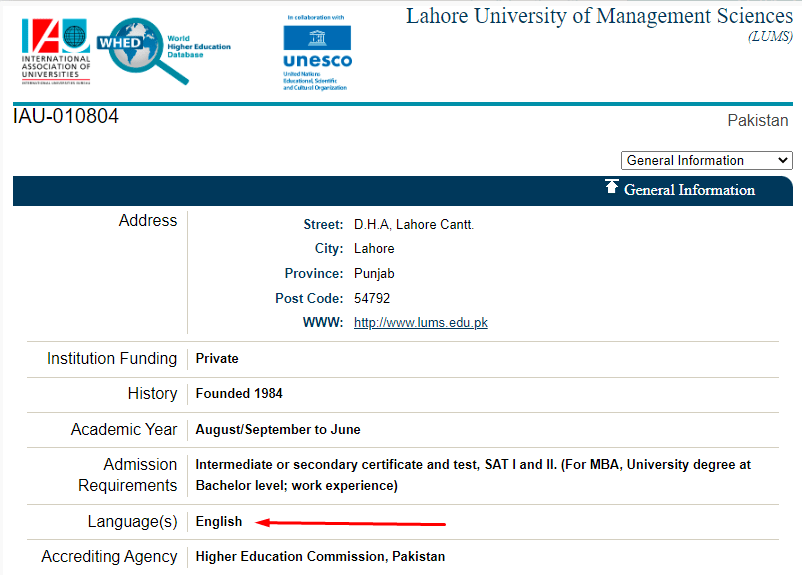 Also read Science Summer Camp 2023 at CityU, Hongkong
Conclusion: Do not make IELTS an obstacle for you. There are always ways. Try to search out, read out and find the best possible way.