China said it would "firmly oppose" any forced sale of TikTok, in its first direct response to demands by the Biden administration that the app's Chinese owners sell their share of the company or face a ban in its most important market.
The comments came as TikTok CEO Shou Chew testified in front of US lawmakers amid mounting scrutiny over the app's ties to Beijing.
China's commerce ministry said Thursday that a forced sale of TikTok would "seriously damage" global investors' confidence in the United States.
"If the news [about a forced sale] is true, China will firmly oppose it," Shu Jueting, a spokeswoman for the ministry, told a Thursday news conference in Beijing, adding that any potential deal would need approval from the Chinese government.
"The sale or divestiture of TikTok involves technology export, and administrative licensing procedures must be performed in accordance with Chinese laws and regulations," she said.
"The Chinese government will make a decision in accordance with the law."
Previously, Beijing didn't weigh in directly on a potential forced sale. However, starting in 2020, it had signaled it wanted to protect Chinese technology by adding recommendation algorithms, which could include TikTok's, to a list of technologies restricted for export.
China may prefer TikTok to be banned than fall into US hands
On Thursday, Chew, in his first congressional hearing, sought to provide nuanced answers and tried to assuage lawmakers' worries about the company and its parent, Beijing-based Bytedance.
But he was frequently interrupted and called evasive by lawmakers. After more than five hours of testimony, the lawmakers expressed deep skepticism about his company's attempts to protect US user data and ease concerns about its ties to China.
That means there will likely be more calls by Washington to ban TikTok if the company does not spin itself off from its Chinese parent, analysts said.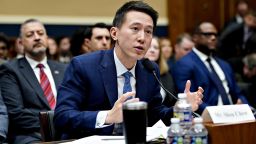 TikTok CEO in the hot seat: 5 takeaways from his first appearance before Congress
The Chinese government may have veto power on the sale, according to Shu's latest response and Beijing's previous actions.
In December, Chinese officials proposed tightening the rules that govern the sale of content-based recommendation algorithms to foreign buyers.
TikTok's algorithms, which keep users glued to the app, are believed to be key to its success. The algorithms give recommendations based on users' behavior, thus pushing videos they actually like and want to watch.
Chinese regulators first added algorithms to the restricted list of technologies in August 2020, when the Trump administration threatened to ban TikTok unless it was sold.
Analysts and legal experts believe that Beijing may ultimately prefer for TikTok to leave the US market rather than surrender its algorithm.
What is TikTok's purpose in China?
TikTok, also known in China as Douyin (Chinese: 抖音; pinyin: Dǒuyīn), is a short-form video hosting service owned by the Chinese company ByteDance. It hosts user-submitted videos, which can range in duration from 3 seconds to 10 minutes. TikTok Pte. Ltd.
Is Douyin Limited in China?
For instance, the Douyin app is only accessible to those who are physically based in Mainland China and it can only be downloaded from the Chinese App Stores. Similarly, Chinese users can not access TikTok, the international version of Douyin. Tiktok can be downloaded from Google Play Store or overseas Apple Store
Why did China ban TikTok?
Why are governments banning TikTok? It all comes down to China. Lawmakers and regulators in the West have increasingly expressed concern that TikTok and its parent company, ByteDance, may put sensitive user data, like location information, into the hands of the Chinese government.
Is Google blocked in China?
Google Search is partially blocked in China. Requests from the mainland to Google Search, including Google.com and Google.cn, are automatically redirected to Google.com.hk, the company's Hong Kong servers. Depending on what you search for on the Hong Kong version, the results may or may not be censored while in China.
Also read unlimited mobile data plans Canada
Which countries banned TikTok?
Which countries have banned TikTok and why?
The UK. …
EU institutions. …
The Netherlands. …
Norway. …
New Zealand. …
Belgium. …
Denmark. …
United States.
Are Indians still using TikTok?
TikTok had more than 200 million users in India before it got banned in 2020. Meanwhile, the Chinese app is likely to face a ban even in United States. TikTok is already been banned on federal devices and some college campuses over privacy concerns.
Also read Walmart to Walmart money transfer online
Why do they want to ban TikTok?
TikTok has more than 150 million monthly users in the U.S. alone, but faces growing calls for it to be banned over fears about China's access to user data.
What is replacing TikTok in India?
Top 11 TikTok Alternatives in India
TikTok: The Origin.
Top 11 TikTok Alternatives.
Instagram Reels.
Youtube shorts.
MX TakaTak.
Chingari.
Mitron.
Bolo Indya.